Article level metrics
Article level metrics are measures of reach and impact of published articles. It is an attempt to combine the data from new sources (social media mentions) and traditional sources (citation) to represent a broader picture of individual works and how it is being shared, applied and talked about. Citation count, altmetric, and outputs in the top percentiles are used to quantify the article level metrics.
Citation count
Citation of any article can be counted/ tracked by multidisciplinary databases such as google scholar, Scopus, and Web of Science. All these different databases include published articles in their database due to which the citation count of each article more likely varies in all these three databases.
Step for citation search on Google scholar
Go to the google scholar
Type the name of author or his/her publication title

Here you can directly see the citation on article or click the underline author name below the title of work (underline author name means author have google scholar profile). For more detail about author profile
Step for citation search on Scopus
Go to Scopus
On search screen from drop down menu select "Source title". Enter the title of journal and press search button.
Scroll down to the "Source Title" section on the left side of the result page. Choose the source title you want, then click the limit to button.
Confirm the outcome by checking the "All" box. After that, select the "View cited by" option.
The list that appears is that cited article you looking for.
Step for citation search on Web of Science Core Collection
Visit Web of Science.
Navigate to the "Cited Reference Search" tab.
In the "cited work'' section, enter the journal abbreviation for your chosen journal title and press the search tab.
When the results are displayed, click "Select All" and then "Finish Search."
Altmetric
It is defined as a collection of scholarly action-related digital information gathered from numerous social media sources. These metrics can be collected more quickly than traditional methods (citation). It includes usage data, social media mentions, and reference management software. It can give a wider impact to research study by monitoring their use in policy documents, news articles, and so on.
At the moment, the three most popular altmetric services are Altmetric.com, Plum Analytics, and Impact Story. Altmetrics.com has been integrated into the web platforms of the majority of well-known publishers. Scopus (Science Direct) has been using Plum X Analytics, so you've probably heard of them. Altmetric.com has created a free bookmarklet that allows you to obtain altmetric data for any of your DOI-enabled publications. Here are the details of these services.
Noteworthy altmetrics tools and services:
Altmetric.com
Euan Adie founded Altmetric.com in 2011 with the help of Digital Science. This data science service company's altmetric (Altmertic Attention score(AAS)) is distinct from other altmetrics (indicator of social media impact). Atmetric.com offers services to institutions, universities, organizations, publishers, and researchers to track their research activity on various social media platforms as well as on other platforms , also known as altmetrics. Atmetric.com assigns an AAS score and a Donut Badge to each research article based on the popularity of the research outputs and a summary of the source of attention.This data science firm collects their database from a variety of sources, including citations, reference manager software, social media mentions, blog mentions, patents, website, Wikipedia, and academic platforms.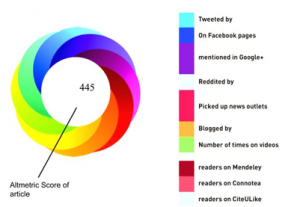 Image source www.wur.n
Plum X
Plum X was founded in 2012 by Andrea Michalek and Michael Buschman with the support of Plum Analytics. Plum Analytics was acquired by Elsevier in 2017 and renamed Plum X, which can track the online activity of any article indexed in the Scopus database. It is an online tool and provides altmetrics of peer reviewed works or other scholarly work by collecting the information from various sources. Plum X is divided in five categories and has assigned five different colours for each. These five categories are green (Usage); purple(capture); Blue(social media); Yellow (mentions) and red (citations). Plum X suit came into existence in 2015 it consists of five separate products.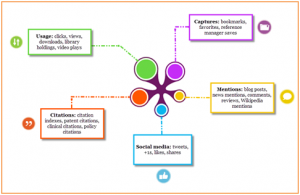 Image source https://blog.scopus.com/posts/plumx-metrics-now-on-scopus-discover-how-others-interact-with-your-research
Lagotto (PLOS Article-Level Metrics)
In 2009, the public library of science (PLOS) launched Lagotto, the first altmetrics service provider. This altmetrics service was adopted by only three publishers PLOS, Copernicus and Public Knowledge Project.
ImpactStory
ImpactStory was founded in 2011 by Jason Priem and Heather Piwowar and can be integrated into academic and research websites. Rather than a specific research article, altmetrics generate a profile of the researcher. They use an ORCID and a Twitter account to create a profile
Crossref even data
Crossref even data (CED) tool was introduced in 2016. It has limitations in that it can only display information that is linked to the DOI. For example, it displays a tweet about an article but not the number of tweets.
Outputs in the top percentiles indicate how frequently your articles appear in the most-cited thresholds of a data source (e.g., Scopus) per publication year. It is used for a collection of journal articles and is normalised for the field in which you write.