Review and its types
When a researcher starts working on a new project and wants to update his/her knowledge and generate new guidelines about the topic, their starting point is always a review article.A review article is based on previously published articles. It does not include any original research or data. In general, review articles summarize the existing literature on a topic in an attempt to explain the current state of knowledge on that particular topic. The questions of 'what has been reported' and 'how it should be presented' are important in review writing, but it is more important to begin any review writing with the question of 'why'. "Why do I want to write a review article?" Another question is "has the topic been reviewed by anyone else?" If the answer is "yes," you should either abandon the idea of writing a review article or report new findings that have not been reported by others. The next step is to decide what kind of review you want to publish; yes, there are different types of reviews. The possible types of reviews are discussed here.
Literature review
A narrative or literature review evaluates current knowledge on a specific topic in a critical and constructive manner. They are crucial in the early stages of research, assisting you in comprehending and developing a theoretical framework for your research. A narrative review can aid you in identifying knowledge gaps and trends in your research. It includes a wide range of related topics. Literature review does not acknowledge any guideline. According to a recent report, the number of narrative reviews in MEDLINE has significantly increased and is also used as the foundation for medical literature synthesis.
Systematic review
"A systematic review is a review of evidence relevant to a clearly formulated question that uses systematic and explicit methods to identify, select and critically appraise relevant research, and to collect and analyze data from the studies that are included within the review". It is a thorough examination of a previously published article that addresses a more clearly formulated question that is intended to answer a specific question. Conducting a systematic review is a complex process that should always begin with a protocol and adhere to Preferred Reporting Items for Systematic Reviews and Meta-Analyses (PRISMA) guidelines. The systematic review is further subdivided into three sections.The limitation of a systematic review is that it is narrowly defined and provides a specific answer to a specific question; for alternative questions that have not been addressed, the reader has to restructure it again.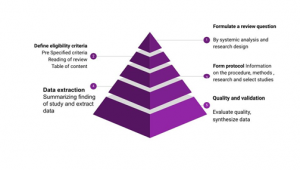 Steps in systematic review
Qualitative systematic review/qualitative evidence synthesis
Method for integrating or comparing qualitative research findings. In this type of review qualitative results of different studies are summed up without any aid of statistics
Quantitative
Statistical methods are used to combine the findings of two or more studies. This review includes studies that contain numerical data or values.
Meta analysis 
In meta-analysis, the results of quantitative studies are statistically combined, resulting in a more concise impact of the outcomes. In evaluating research findings, meta-analysis is objective in nature. Not all topics have sufficient evidence to be included in a meta-analysis. It can only be carried out when there are multiple studies on the same scientific question, with each study reporting some measurement that is expected to have some error or drawback.
Rapid review
"A form of knowledge synthesis that accelerates the process of conducting a traditional systematic review through streamlining or omitting specific methods to produce evidence for stakeholders in a resource-efficient manner". Assesses what is known about an issue by searching and evaluating research and determining best practise using a systematic review method. Time frame of rapid review varies is more or equal to 5 weeks. It shortens the systematic review process by making it less vigorous and reducing the number of steps in the process.
Scoping review
An initial assessment of the potential size and scope of the available research literature. The purpose of this study is to determine the nature and extent of research evidence (usually including ongoing research). The scoping review can take months or a year, like a systematic review, or it can take longer. Both a scoping review and a systematic review use the same methodology and process; both are rigorous and transparent in their critical evaluation of all relevant literature that is involved in the study.
Mixed methods or mixed studies 
Refers to any methodological combination in which a significant component is a literature review (usually systematic). It refers to a combination of review approaches. For a example, combining quantitative and qualitative research
Source A typology of reviews: an analysis of 14 review types and associated methodologies
Difference between Systematic and Narrative Review
Narrative Literature review
Systematic Review
Required Question
Broad
Specific
Required protocol
No protocol
Complex process always follow protocol
Objective 
Specified or non-specified
Specified
Literature search criteria
There is no strategy
Systematic, comprehensive and extensive
Selection of study
No such criteria
Explicit (involve more database) and specified criteria
Risk of bias 
High
Low
Timeline 
Months to year

Average 18 weeks

Weeks to months
Important outcome
Support evidence-based Practice
Summary of articles on related topic